Snooty Giggles Dog Adoption Application
---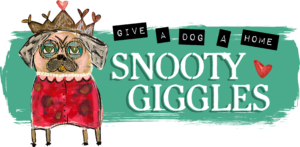 Please read the following before applying
All dogs in the adoptive household must be UTD on all vaccines and spay/neutered at time of applying.
If your current dogs are not using a prescription Heart Worm Preventative written from your veterinarian year-round, your application will be rejected.
We will verify with your vet and we will need copies of proof of sales receipts that heart worm prevention is being used. Thank you for your understanding.
*Adopters must be 25yrs old, or have a parent co-sign for adoption.*
If your application fails to submit, please go back over the application and fields marked with RED will indicate missing fields that must be completed before the application will submit. We understand not all fields may apply to you and your situation, if the question does not apply to you or your situation please use N/A to complete the fields.
————————————————————————————————–
We're 100% volunteer-based, so it may take us a few days to respond to your application. Thanks for your patience.
If you have submitted an application and not had a response to your submitted application within 2-3 business days, please email snootygiggles@gmail.com to make sure we received your application.